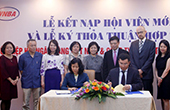 On 20th April 2015, Vietnam Credit Information Joint Stock Company (PCB) – The  only private credit bureau licensed to operate in Vietnam – has officially become a member of Vietnam Banks Association. The supports and welcome of the members of the Association to PCB affirms the value of the products that the company brought to the credit market.

After the preparation process, PCB was granted licence for credit information operation by State Bank in February 2013. Since then, PCB has grown quickly both in size and in operation. Currently, PCB system has 25 members including banks and credit institutions with a database of close to 5 million borrowers (individuals and SMEs). In addition, there are many banks, financial companies and micro-finance institutions are at the final stages to become PCB members. PCB provides two types of services: providing credit information products to credit institutions in Vietnam and allowing borrowers to self-check their credit reports.
Besides the basic product - the credit report - has been well received by the market, PCB is focus on developing value-added services for the market. In 2015, portfolio management services and Credit bureau score will be the new tools that assist the credit officer in client assessment, risk management and business development. PCB has prepared a roadmap to develop many products and services to support credit management activities based on the World class solution from Europe with the goal of contributing to the sustainable development of Vietnam's retail credit market.
Joining the Vietnam Banks Association, PCB hopes to assist to the general development of the banking industry. This is also a great opportunity for PCB to develop the customer network, expand the database in both quantity and quality in order to bring high quality products and services to the market.